Welcome to Mgahinga National Park, a complete guide for visitors with everything you need to know about the Mgahinga Gorilla National Park in South West Uganda. Our aim is to provide free and inspiring advice to help you plan an amazing experience in Mgahinga National Park. Whether you are looking at gorilla trekking in the park, hiking the Virunga Volcanoes, golden monkey tracking, you will find all the information to plan your trip.
Find information about the park, things to see (attractions), things to do (activities) and a travel planner to help you plan a perfect gorilla safari to Mgahinga Forest. Our exclusive safari planner section has detailed information on planning a gorilla trek, when to go, gorilla permits, how to book your safari, where to stay and more!
Top Safari Experiences – Tours and Activities
Would you like to go gorilla trekking in Uganda? We bring to you all year round tours to Mgahinga Gorilla National Park and the neighboring areas including Bwindi Impenetrable Forest, Lake Mutanda, Lake Bunyonyi and the Virunga Region. Interested in hiking, biking, sightseeing or gorilla tours? Here are some private custom tours that are offered by selected tour operators at discounted prices to enable you experience Mgahinga National Park.$1,480
All About Mgahinga Gorilla National Park
At just 33.7km2, Mgahinga National Park is Uganda's smallest national park. Mgahinga Gorilla National Park is located in the southwestern corner of Uganda. The Park covers the northern slopes of the three northernmost Virunga Volcanoes: Mt. Muhavura (4,127 m), Mt. Gahinga (3,474 m), and Mt. Sabinyo (3,645 m). The Park is about 10 km south of Kisoro and is bordered to the south by the Volcanoes National Park of Rwanda and to the west by the Virunga National Park of the Democratic Republic of Congo.
The park is part of the larger Virunga Conservation area that spreads over the three countries. Each of these countries protects its own portion of the Virungas, in the Parc National des Volcans and Parc National des Virunga respectively. The three parks together form the 434-sq. km. 'Virunga Conservation Area' or VCA. Mgahinga is 33.7 sq. km, just 8% of the VCA. The entire Park is in Bufumbira County of Kisoro District.
Mgahinga Gorilla National Park is 33.7 sq. km and consists of the partly forested slopes of three extinct volcanoes. From far away, the huge cones of the Virunga volcanoes dominate the landscape and beckon you as you approach. When you reach the park you can get a great overview of the area by walking up the viewpoint, just 15 minutes from Ntebeko Gate.
Mgahinga Park has great biological importance because throughout the climatic changes of the Pleistocene ice ages, mountains such as these provided a refuge for mountain plants and animals, which moved up or down the slopes as climate became warmer or cooler. The Virunga's are home to a large variety of wildlife, including about half the world's critically endangered mountain gorillas.
Things to See in Mgahinga National Park
There are lots of things to see in Mgahinga Gorilla National Park. From the endangered mountain gorillas to golden monkeys, three of the Virunga Volcanoes and unique flora and fauna. Here are the top attractions of Mgahinga National Park. that you should not miss!
Mountain Gorillas
Mgahinga Gorilla National Park is home to more than half of the world's population of the endangered mountain gorilla. Fortunately for the gorillas are the main reason as to why the park was created by the Uganda government.
Virunga Volcanoes
Mgahinga is one of the most scenic given that the park lies on the northern slopes of Mt. Muhavura, Mgahinga and Sabinyo. These three volcanoes create an unforgettable regional backdrop. 
Golden Monkeys
Mgahinga Gorilla National Park is the only destination where Silver meets Gold. The park protects both mountain gorillas and golden monkeys. The golden monkeys are an ancient group of monkeys that are only found in the Virunga. 
The Virunga Volcanoes
Mgahinga Gorilla National Park is home to three of the eight conical Virunga Volcanoes.
Mount Sabyinyo
Sabinyo has three peaks. Sabinyo is a local word that comes from the word 'Iryinyo', meaning tooth. The borders of three countries converge on this summit and you will find yourself simultaneously in Rwanda, Congo and Uganda. 
Mount Gahinga
Mgahinga National Park derives its name from this volcanic mountain. This dormant/extinct volcano lies on the border between Uganda and Rwanda. An ascent of Mount Gahinga climbs from Ntebeko takes around 6 hours. 
Mount Muhavura
This classic volcanic cone is capped by a small but lake; a modest reward for a 5 hour trek that rises 1700m to over 41OOm. The word Gahinga comes from the local Rufumbira dialect meaning "a small pile of stones".
Things to Do in Mgahinga National Park
There are lots of things to do in Mgahinga Gorilla National Park. From gorilla trekking to Volcano Hiking, Mgahinga is such a place where you can engage in several adventure activities.
Gorilla Tracking
Gorilla Tracking is the most popular activity that is done in Mgahinga Gorilla National Park. Most travelers to Mgahinga visit the park for mountain gorilla trekking. There is one habituated gorilla family i.e. Nyakagezi Gorilla Family. 
Volcano Hiking
Though gorilla trekking is the park's most popular activity, Mgahinga merits a visit simply to appreciate the scenery. A choice of hikes allows for all abilities, ranging from the 8 hour return trip to the summit of Mt. Muhabura, to gentle strolls across the lower slopes beneath the magnificent three peak backdrop. 
Golden Monkey Tracking
Golden monkey tracking is one of the top activities that make this park an interesting place for tourists to visit for a primate safari. Challenge yourself an engage in this life changing activity and achieve an excitement of a lifetime. 
Batwa Trail
The Batwa Trail leads from the base of Muhavura Cave. This walk is conducted by Batwa guides who provide insights into their traditional forest life and culture. The Batwa used to live with the gorillas in hamony within the Mgahinga Forests.
Bird Watching
Mgahinga Gorilla National Park is ideal for birding. Bird through different places including the Buffalo Wall, forests, wetlands and other habitats. Some of the birds to see include ibis, speckled mous, fire finch and many others found in the area.
Garama Cave Exploration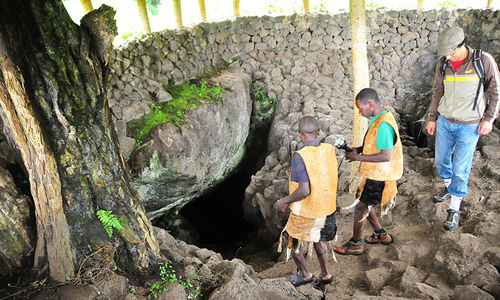 The 342m long Garama Cave lies beneath a plateu northern edge of the park, 3km from Ntebeko. It is set in the former farmland zone but in earlier times, the cave forest when it was occupied periodically by Batwa who used it as a council chamber and a retreat.
Safari Planner
Plan a safari to Mgahinga National Park
Planning to go for the thrilling gorilla trekking in Mgahinga National Park? Here is all the information you need to plan a perfect trip to see the endangered mountain gorillas within the park.
When to Go
Wondering about the best time to visit Mgahinga? The park experiences two rainy seasons; March-May and September-November. October is the wettest month, with 250mm of rain and July the driest with just 10mm. Most tourists go for gorilla safaris during the dry months of June-October and December to March. It is advisable to book your gorilla passes at least 4 months to the travel period given that there is a high demand for the Mgahinga gorilla passes.
Where is Mgahinga National Park?
Mgahinga Gorilla National Park is located in South Western Uganda. The Park is situated about 8-10 hours drive from Kampala, Uganda and about 6 hours drive from Kigali, Rwanda. The can be accessed using both road and air transport.
Which entrance to Mgahinga Gorilla National Park should I take?
Mgahinga Gorilla National Park has one main entrance for visitors and it is accessible from all directions. The Ntebeko gate is accessible from Kisoro Town and there is proper signage to the park headquarters.
How should I get to Mgahinga National Park
Most people travel on pre-booked Uganda safaris that are arranged by various tour operators. If you are looking to an independent trip, you should consider driving to to the park or using public transport as per our resource information. On this website, you can also check out our road trip ideas. Once you get to the park, you hike through the park on foot.
Where should I stay on my Safari Vacation?
There are several campgrounds, hotels and lodges around Kisoro and Lake Mutanda Area. There are no developed lodging facilities inside the park. There are various lodging options near the Ntebeko's entrances. Depending on the season, you will need to reserve hotels and campgrounds well in advance.
What animals will I see in Mgahinga National Park?
There are several animals that have been recorded within the Mgahinga Gorilla National Park. Though gorilla trekking is the most popular adventure, there are several wildlife viewing activities that you can take within the park such as golden monkey tracking, buffalo viewing, bird watching etc. Check out our wildlife checklist for a detailed listing of animals that you can see in the region' Septembers 28, 2021 
Things to See
Garama Cave
Mount Gahinga
Mount Muhavura
Mount Sabinyo
Virunga Volcanoes
Wildlife
Golden Monkeys
Mountain Gorillas
Things to Do
Batwa Trail
Birding in Mgahinga
Golden Monkey Tracking
Mountain Climbing
Mount Muhabura Hike
Nature Walks
Nature Walks
Plan a Gorilla Trek
Gorilla Families
Nyakagezi Gorilla Group
Gorilla Permits
Gorilla Trekking
When  to Go Gorilla Trekking
Habituated Gorilla Families in Mgahinga
Gorilla Safari Companies to Use
What to Wear on a Gorilla Trek
What to Pack for Gorilla Trekking
How to Book Gorilla Permits
Gorilla Trekking Rules & Regulations
Facts About Mgahinga Gorillas
Where to Stay
Budget Lodges
Guest Houses
Hotels
Lodges
Safari Lodges
for more details visit