CHIMPANZEE TREKKING IN RWANDA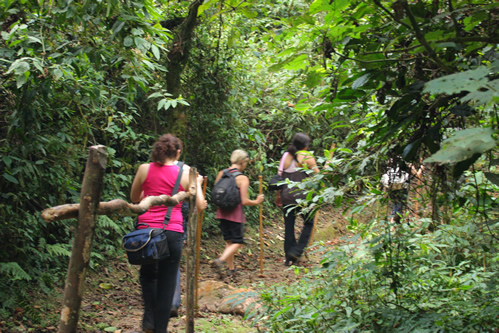 Planning to do Chimpanzee Trekking in Rwanda? Well read more. In the past 10 years, the government of Rwanda has positioned her as a tourism hot spot in the region. A sizable chunk of the government's budget has been set aside to turn the country as a leading tourism destination through extensive marketing and promotion to the outside world. President Paul Kagame has been at the forefront of all these efforts and encouraged diversity were attractions like the Congo Nile Trail are now emerging favorites. Despite the diversification, the key attraction in Rwanda still remains the primates. Gorilla trekking is arguable the most attractive activity in Rwanda. Gorilla permits in Rwanda now cost $1500 per person but this hasn't stopped tourists from flocking into the country to see the primates. But it has caused some to seek for alternatives like chimpanzee trekking.
Chimpanzee trekking in Rwanda is organized in Nyungwe forest. This long stretch of montane rain-forest is the largest in Africa at the moment and a great conservation sight attracting researchers and scientists who are interested in primate research. The forest is part of the wider Nyungwe National Park which now includes the Cyamudongo forest. Nyungwe forest is a key water catchment area in the country producing rains that feed rivers like the Nile in Uganda and others in Congo. Nyungwe forest is a great bird sanctuary with over 310 species. Birders will be able to spot paradise flycatchers, Chapin's flycatcher, purple-breasted sun birds, Rockefeller's' sunbird, red-collared mountain babblers and Ruwenzori turacos among many others.
Chimpanzee trekking in Nyungwe Forest
Chimpanzees are man's closest relatives. They share many of our traits and are arguably the most intelligent Apes after we humans. They are known to live up to 60 years in captivity. In Rwanda, chimps can be found in three main places – Nyungwe National Park (Nyungwe and Cyamudongo forests) and Gishwati Mukura national park. Nyungwe National Park has the highest population of chimps (over 400 individuals) and other primates – 13 species in total. Two chimpanzee communities have been partially habituated in Nyungwe National Park. Most of them live in Nyungwe forest (60 individuals) while the rest are found in Cyamudongo Forest (30 individuals). Other species include blue monkeys, mona monkeys, silver monkeys, owl-faced monkeys, the Dent's monkey, black faced ververt monkeys, L'Hoest monkeys, baboons, grey-cheeked Mangabeys, Rwenzori colobus, black and white colobus monkeys.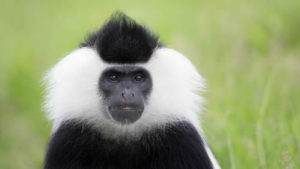 Chimpanzee trekking is a complete ball game from gorilla trekking, Chimps are stubborn, noisy and very mobile. Because they are lighter, they spend a lot of their time on top of the trees unlike mountain gorillas. Mountain gorillas are very gentle and peaceful. They will eat quietly and interact with less provocation and drama in the group. Tracking chimpanzees requires one to be fit enough in order to follow the primates for long periods as they make quick movements both on the ground and on top of trees before settling down.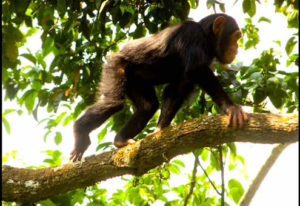 Chimpanzee trekking begins with briefing at 5:00am. The briefing takes place in either Uwinka, Gisakura or Kitabi. You need to wake up as early as 4:30am so that you take breakfasts and prepare to start the activity. As already mentioned above, the forest is large. The only way to find the chimps is to try and reach them before they head out for the day. A group of trackers go ahead of the team to find the location of the chimps before communicating to the lead Ranger /Guide about where to find them. The trackers and rangers are very experienced and knowledgeable about the chimp communities and where to find them.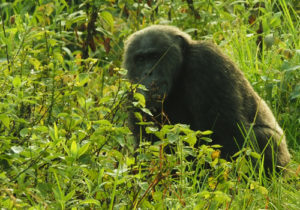 Chimpanzee tracking in Nyungwe forest can take between 2 to 6 hours or longer. After following/chasing the chimps for a while, they may settle down and allow you to observe them more closely or take photos. While with the chimps you will notice that they behave just like we humans. You will watch them groom each other, mate, breastfeed, play and start fights. Some members of the group are quiet while others are more vocal. Like humans, they have their group dynamics and internal politics. Although chimps are curious about humans, they will tend to keep their distance.
Note: As a large forest, Nyungwe presents challenges for those interested in chimpanzee tracking. The chimpanzees tend to move deep into the thick forest reducing the chances of seeing them. It much easier to spot the chimps in Cyamudongo forest because it is smaller and easier to cover by foot in a short time.
Tips and packing list for Chimpanzee tracking in Rwanda
Chimpanzee trekking in Nyungwe forest is organized throughout the year. However, the best time for chimpanzee trekking in Nyungwe National Park is during the rainy/wet season. During this time, there is plenty of food in the forest which limits the movement of the chimps. During the dry season, the chimps go deep in the vast forest in search of fruits hence making it more difficult to track them. The dry season is ideal for those who are interested in the canopy and nature walks.
There is no guarantee that you will be able to see them especially in Nyungwe forest.
Tracking the chimpanzees in Cyamudongo offers a greater chance of finding them because the forest is smaller and isolated.
Chimpanzee permits cost $100 per person. Bookings are made directly through the Rwanda Development Board or your Tour Operator. The chimpanzee permit fee includes a ranger and guide assigned to move with you and your group. You will be required to show your chimpanzee tracking permit at the park entrance just before proceeding to the beginning point.
Visitors can spend more time observing the chimpanzees unlike with mountain gorillas where the viewing time is strictly one hour.
Children under the age of 16 years will not be allowed to track chimpanzees.
It takes four hours of driving by road to reach Nyungwe forest from the capital Kigali. One can also take a domestic flight from Kigali to an airstrip close to the park office.
Unlike mountain gorillas, the chimpanzees in Nyungwe forest are not fully habituated. They are not as organized as mountain gorillas. Chimpanzees don't settle in one place and this makes for a demanding but also thrilling task of following them wherever they go. It is for this reason that sighting them is not guaranteed. However, most people who track the chimps see them eventually because of the advanced methods of tracking and the ability of the experienced Rangers to know their previous place of rest.
While planning for chimpanzee tracking in Nyungwe National Park think about packing enough drinks, snacks, rain jacket, good hiking shoes, a longs sleeved shirt, sun glasses and insect repellent. Do not forget to move with a good camera and binoculars.
Activities in Nyungwe other than chimpanzee trekking

Although chimpanzee tracking is the most popular activity in Nyungwe forest, visitors can also take part in tracking smaller primates, canopy walks, nature walks, bird watching, visiting the tea plantations and visiting one of the waterfalls. It may now be possible to do the chimpanzee habituation experience in Rwanda too.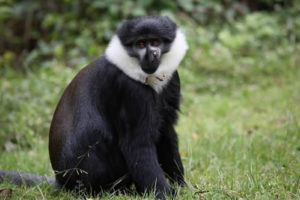 Spotting other primates: Nyungwe National Park is one of the best places to spot primates in Africa. With 13 species, this can be compared to Kibale National Park in Uganda. The most sought out species after the chimpanzees is the Rwenzori and Angola Colobus. The Angola Colobus Monkey is now extinct in Angola itself. About 400 Angola Colobus are semi-habituated in the park. Golden Monkeys are also present in the through not habituated.
Canopy Walks:  The best way to explore this thick and ancient forest is to by using the Canopy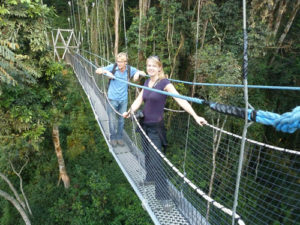 Walkway. It is the only one in East Africa as I write this article The 60-meter-high strong steel bridge is built on the tree tops to give tourists an aerial view of the birds, primates and endless forest. There are viewing points/decks along the walk way which offers one opportunities to rest as they marvel at the amazing scenery and wildlife. The activity starts from the visitor center in Uwinka and takes about 2 hours. A tour through the Canopy walkway costs 60 US Dollars per person.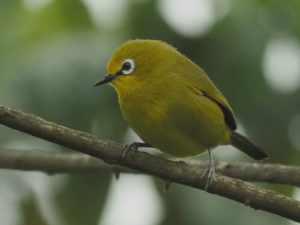 Bird watching: Nyungwe National Park is one of the best places for birdwatching in Rwanda. Nyungwe Forest is home to over 300 species of birds of which about 26 are endemic to the Albertine rift. Apart from the species already mentioned earlier, one can also spot the Apalis argentea, Archer's Robin-chat, Dusky Crimson Wing, Grauer's Warbler, Handsome Francolin, Kungwe Apalis, Large blue Turaco, Ruwenzori Apalis, Ruwenzori Batis, Ruwenzori Nightjar, Shelley's Crimsonwing, Neumann's Warbler and Sunbirds. Bird watching begins right from the window of your hotel room and while tracking the primates or going for the canopy walk.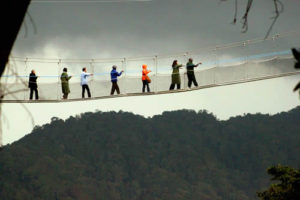 Nature walks and Hikes: There are different trails for forest hikes in Nyungwe national park. If one is to complete all the trails, they would have walked for about 130 kilometers. To complete all the trails, one would need about a week. The main trails are the Bigugu Trial, Ngabwe Trail, Canopy trail, Kamiranzovu Marsh Trail, Congo Nile Trail, Bigugu Trail, Igishigishigi Trail, Karamba Birding Trail, Irebero Trail, Isumo waterfall Trail, Imbaraga Trail, Umugote Trail, Muzimu Trail, Rukuzi Trail and Umuyove Trail. The most popular trails are Bigugu and Igishigishigi. You need to be fit enough to enjoy your nature walk because the terrain is unpredictable. One thing for sure it that by the time you complete these trails, you would have seen most of the primates, birds, butterflies, rivers, insects and much more.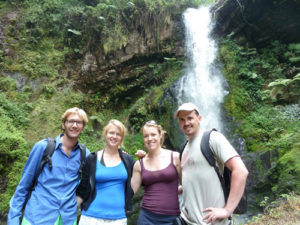 Visiting one of the waterfalls: The most popular waterfall is the Isumo waterfall located close to the luxury Nyungwe House. To reach this waterfall, you will go through the Isumo Waterfall Trail. This trail is not very long but involves passing through slippery and steep areas of the park after which you descend to a very dense part of the forest before seeing the waterfall. The Isumo waterfall squeezes through a narrow section of rock before plunging down and continuing deep into the forest as a stream. The reward for such a difficult hike are the amazing sounds, cool breezes and views of the dense forest. As you retreat back to your hotel you will have many more opportunities to see insects, birds, frogs and some of the primates of the forest.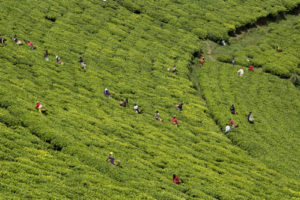 Visiting the Gisakura Tea Plantation: This activity can be done in the evening or after completing your other activities in the park. It is suitable for tea enthusiasts and those who appreciate the beauty of nature.  One can visit the processing plants or go directly to the plantation and learn how tea is grown, harvested and processed. You may even be offered an opportunity to join in picking tea and putting it into a basket. The area around the estates has amazing scenery of the forest and mount Bigugu in the horizon.
Climbing Mount Bigugu: Mount Bigugu is found within Nyungwe forest. It is 2950 meters above sea level. The peak offers stunning views of the vast forest and distant Virunga mountains/volcanoes such as Karisimbi, Bisoke and Muhabura.
Cultural and Community Visit: The people of Rwanda have a unique culture and there are countless opportunities to experience it while on a tour of the Nyungwe forest. The best place to start is to visit places like the Kitabi cultural village or Banda Community Village. You can also attend performances by the Cyamudongo cultural troupe or friends of Nyungwe. All these groups showcase the rich culture of the people if Rwanda through dance, drama and storytelling. There are always opportunities to buy souvenir (local crafts and art pieces).
Accommodation during chimpanzee trekking in Nyungwe Forest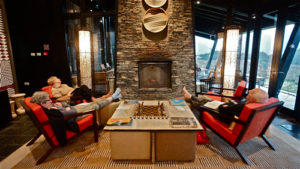 Travelers to Nyungwe National Park have several accommodation facilities to choose from. The facilities come in form of budget, mid-range, luxury and super-luxury hotels. The Luxury hotels offer very high quality services that are comparable to any in East Africa. Some of the hotels include Gisakura guest house, Inzozi beach hotel, Nyungwe forest lodge, Nyungwe top hill hotel the super luxury Nyungwe House. Let's look at some of them briefly:-
Nyungwe House: This luxury lodge was established in 2010 as the first 5-star hotel. It was built on a tea plantation just outside Nyungwe forest. It has quickly become a favorite with visitors who have come for activities in the forest because of its high quality services and location. The lodge provides self-contained luxury rooms, a swimming pools and gym. You can choose this hotel for its quality services and amazing views of the forest and surrounding tea plantations.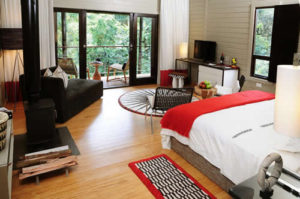 Gisakura Guest House: This Guest House is built 2 kilometers away from the park and close to the Gisakura tea estate just off the road leading to Rusizi. The facility is suitable for those who are traveling on budget. The Guest house is perfect for those who have come to see the chimp, canopy walks or nature walks in Nyungwe National Park.
Nyungwe Top View Hotel: This hotel was opened in 2011. It is close to Nyungwe forest and offers mid-range accommodation facilities with self-contained rooms. The rooms are built facing the national park and hence offering amazing views of the countryside. The building are all made of red bricks while locally made furniture. Though it is not a luxury hotel, all the rooms have a lounge where guest can mingle and get information about their activities from staff. Food is served at the dining or in the rooms.
for more details visit